Return to Headlines
RBR Hires Dave Schuman as Head Football Coach
RBR Hires Dave Schuman as Head Football Coach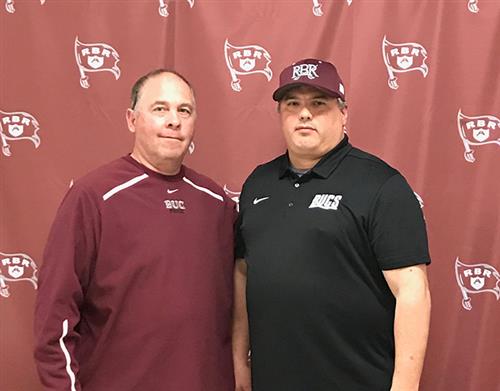 At its April 3 Board Meeting, the Red Bank Regional Board (RBR) of Education hired Dave Schuman as its new football coach. Mr. Schuman replaces Nick Giglio as head coach who was the second longest serving football coach (ten years) at RBR. He brought the team to the Group III Championship in 2015 when he was named the Asbury Park Press Coach of the Year. Coach Giglio leaves his post with 45 wins, tied with legendary Coach Robert Strangia's record.
Mr. Schuman is a business owner of the National Underclassman Combine that identifies and scouts football across the nation. He also owns and operates Inspired Athletes NFL Agency, where he functions as a player agent for professional football players. A former college football player, since 2005 he has coached at several high schools achieving much success.
RBR Athletic Director Del Dal Pra comments, "We reviewed three dozen resumes and applications over the past three months and brought in 21 highly accomplished coaches to participate in a comprehensive multi-round process. This included input from parents, alumni, staff and administration. Coach Schuman really impressed us, dating back to his playing days at Saddle Brook High School where he was an All-State running back and high school All American. He began his coaching career by turning around his alma mater Saddle Brook into a winner. We are very excited to have him join our athletic coaching staff next year."
Coach Schuman coached for six years at Palisade Park/Leona taking a program that had ceased its operation for one year (due to low numbers) and brought it to a NJSIAA sectional championship game in 2012. He was twice named Bergen County Coach of the Year and twice his teams were ranked in the NJ final top 20. He then moved on to Indian Hills High School where he rebuilt his third football program. He also served as an assistant coach at Old Tappan and River Dell.
Other professional football coaches comment on RBR's selection of Dave Schuman to lead its football program:
Coach Jeff Hafley, formerly a San Francisco 49 coach and current Ohio State Defensive Coordinator, stated, "RBR getting Coach Schuman is not only a big coup for Red Bank, but the entire Shore Conference. He brings a lot of big north Jersey high school football experience and college contacts that will benefit the whole conference and there is no coach better at getting kids recruited."
Coach Kyle Flood (Formerly Rutgers Head Coach and current Alabama Assistant Coach) states, "Coach Schuman and Red Bank are a perfect fit. He is getting a program in the middle of a huge upswing. I only wish my son could play for him."
Red Bank will open up the 2019 season at home on Friday, September 6, vs Freehold Boro at 7 pm.