Return to Headlines
Principal Risa Clay to Depart RBR:
Principal Risa Clay to Depart RBR: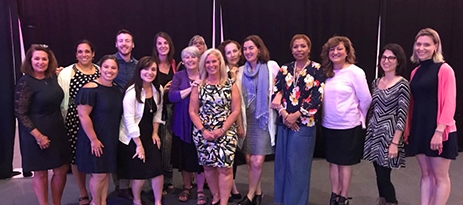 At its April 3 board meeting, the Red Bank Regional Board (RBR) of Education accepted the resignation from its Principal, Risa Clay effective October 31, 2019. Mrs. Clay will be on sick leave from April 3 to October 31.
Superintendent Louis Moore praised Mrs. Clay for her leadership and many contributions to the high school stating, "As principal and in many other roles, Risa Clay's efforts have been essential in establishing an environment at RBR that is compassionate and truly student-centered."
Dr. Moore announced, "A search process will be utilized to ensure that all stakeholders have input into the selection of RBR's next principal and hopes to have a new principal in place by August 1, 2019."
Mrs. Clay enjoyed a 27-year long career at RBR, beginning as a Student Assistance Counselor. Realizing that she had more needs than resources, 19 years ago she wrote a grant to the state and founded The SOURCE, RBR's School-Based Youth Services Program whose mission is to remove all obstacles that impede students' academic success. She served as the director of The SOURCE for many years while she also developed and headed the English Language Learner's Program which earned accolades from the State as a model program.
Mrs. Clay was also responsible for instituting a progression to college program through Brookdale for ELL students where the cost of college was supported by a special private scholarship, The Andrew Kroon Memorial Scholarship. To date, RBR has seen over 60 students attend college on that scholarship program.