Return to Headlines
RBR String Major John Simone Selected to Honors Guitar Ensemble
RBR String Major John Simone Selected to Honors Guitar Ensemble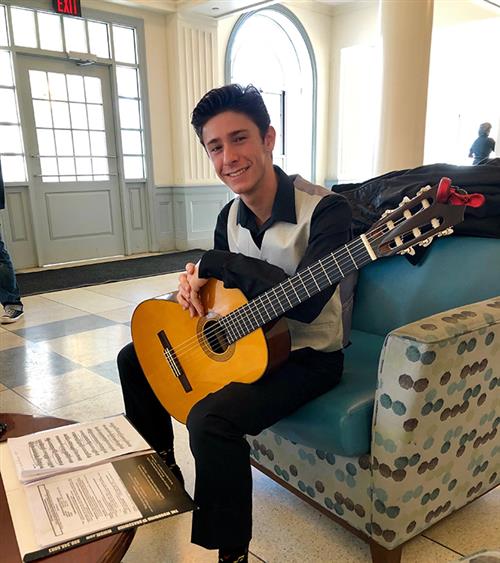 Red Bank Regional (RBR) formed its guitar ensemble four years ago as part of the Academy of Visual & Performing Arts (VPA) string program. It has proven to be a popular new VPA major grounded in classical guitar theory. RBR junior John Simone, 16, from Shrewsbury, is the first RBR student accepted into the prestigious New Jersey Music Education Association (NJMEA) Honors Guitar Ensemble, which brings together the top student classical guitar musicians in the state of New Jersey. At the encouragement of his strings teacher, Jeffrey Boga, John auditioned this past February playing two classical pieces. As part of the honors guitar ensemble, All States Award NJ, he will perform at The College of New Jersey, 2000 Pennington Road, Ewing Township, NJ at 12:00 pm on May 4, 2019.
John, who is busy rehearsing for the show stated, "I have been given eight pieces to learn and I am finding them very helpful and challenging. I also am very much looking forward to the performance as well."
Music has been a major motivator in John's life. His passion for all music runs the gamut of American music genres from the Swing era of the 1940s to the rock n roll of the 1980s. He took up the guitar in sixth grade and has taken private lessons. During his freshman year at RBR, he took the guitar elective, which prompted him to join the VPA program in his sophomore year. John is also a member of the RBR jazz band, which in 2018 won first place in the Liberty Jazz Festival.
John produces his own music using a sophisticated software system and performs in gigs with his local band. Freshman year he succeeded in joining the Count Basie production crew at Rockit. He auditioned with Jimi Hendrix music and performed a variety of pieces of other famous guitarists such as Bill Withers
Regarding the RBR guitar program he explains, "I feel it is a great program. I have learned a lot and expanded my play ability to play and read music. I feel the classical approach gives you a wider range of techniques to learn as a guitarist. Also, I am grateful to meet and be part of a great community of people that share my passion."