Return to Headlines
RBR Star Runner Jackie Prestininzi to Run at Bryant University Next Year
RBR Star Runner Jackie Prestininzi to Run at Bryant University Next Year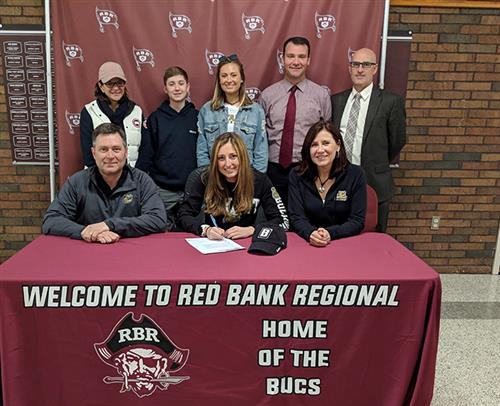 Red Bank Regional (RBR) senior track and cross country runner Jackie Prestininzi, 17 of Shrewsbury, will be attending Bryant University next year and will run for the Bryant Bulldogs. Jackie has been a three-season runner at RBR and acquired four varsity track letters (to date) as well as two in cross country. She was elected as captain on both teams for her senior year.
Her coach Maria Crowley states of her star runner, "Her prowess as an outstanding contributor, competing all three seasons for the Bucs, goes beyond her athletic ability. She has proven herself as a leader at Red Bank Regional. She is a teammate that leads by example, always striving for improvement, encouraging and assisting both her teammates and her coaches on and off the track. We wish her the very best as a Bulldog at Bryant University in the fall of 2019."
Jackie's running record includes personal bests of 28.85/ 200, 64.61/400H, 70.03/400 and 2:36.95/800. She also competed in all distant medleys. Her cross country record includes a personal best of 20:49 in the 5k distance; she was also a member of the 2017 Divisional XC and 2017 Shore Track Coaches Invitational Championship teams.
Jackie was attracted to the Bryant University for its academic program as well as its sports. She has been a successful academic student at RBR and earned membership in the National Honor Society and was elected to Student Council. She also served as a Student-to- Student Peer Leader Officer mentoring freshmen. Jackie intends to study business management in college.
Jackie's success is all the more remarkable because of her amazing comeback from a debilitating injury suffered in her sophomore year, when she ran into a hurdle causing nerve damage and swelling to her knee. The injury sidelined her for most of her junior year, but her sheer determination along with lots of physical therapy to rehabilitate her knee brought her back to peak form.
She states of that experience, "I was able to come back because I love the feeling of competing and doing well and pushing myself to become the best version of myself. It (running) just gives me so much joy and is such a big part of my life. That is why I am doing it in college."