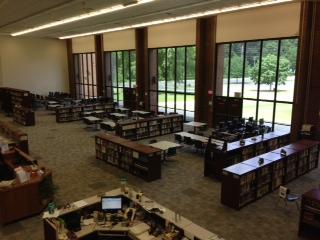 About Our Media Center

The mission of the Red Bank Regional High School Media Center is to ensure that students and staff become effective, lifelong users of ideas and information by providing free and equal access to materials that meet intellectual, curriculum, and recreational needs, instruction in information retrieval, and networking with available resources.

Program Overview
The Media Center is an important aspect of the educational program at Red Bank Regional High School. It provides a wealth of information and technologies to the students, staff, faculty and community.





Our Media Center includes more than 10,000 books, over 100 print periodical subscriptions, access to online newspapers and journals via our EBSCO and JSTOR databases, We have over 500 DVD's. In addition, all students have access to Overdrive, our e-book service.



The Media Center services over 1100 students and 150 staff members. On average, over 425 students use the facility daily.





The Media Center is fully automated with 68 PC's and 24 iMAC workstations.. The Media Center also has wireless Internet access. Our collection is catalogued electronically on the Follett system and can be accessed via our school website as well from the desktop application of computers within our network. Students also have access to printers and scanners.





The Media Specialist provides a number of services to the faculty, staff and students at Red Bank Regional High School. All freshmen receive orientation to inform them of Media Center materials, procedures and resources. Classes are encouraged to use the Media Center resources for research. The Media Specialist assists all staff in the use of the Media Center and its available technologies for use in instruction. Additionally, everyone is encouraged to seek out the Media Specialist for assistance in individual projects.