Return to Headlines
RBR BUC Backer Foundation Instills Spirit and Pride With Campus Beautification Project
RBR BUC Backer Foundation Instills Spirit and Pride
With Campus Beautification Project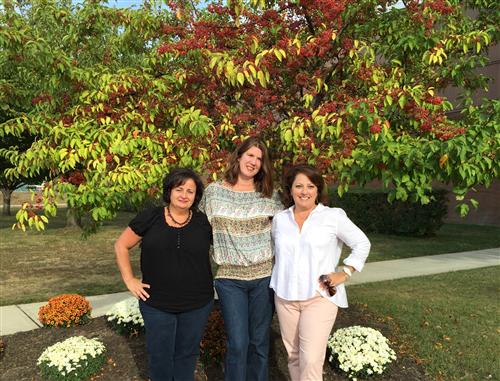 Upon the approach of the Red Bank Regional (RBR) campus from either Harding Road or in both directions on Ridge Road, one encounters a series of signs.
"Have…You… Got… It?" The question is soon answered by the last sign =="Buc Pride!" which leads to the front entrance with an even larger sign announcing, "Welcome to BUC Nation, Home of the Buccaneers!
The eye-caching signage is just part of a first installment on what the new leadership of the BUC Backer Foundation (BBF) plans for the RBR campus.
BBF Co-President Carmelina MacPherson explains, "When Patti Forsman and I accepted the presidency, we were determined to do something that would help build school spirit and BUC pride. We decided to focus on the campus so the students and parents could feel a sense of pride on how great the school looked."
Patti Forsman adds, "We surveyed the parents and students looking for a logo – something everyone could identify with, and 'Got It! BUC Pride' was the winner!"
In addition to the signs, mums were planted throughout the campus and weeding was done. That temporary measure was soon followed with a major landscape design coordinated by RBR parent and project designer Dulce Feito-Daly. Mrs. Daly engaged the services of Sickles' Landscaping, a long-time school supporter in Little Silver, who helped developed plans to landscape three specific areas at the entrance of the school – (1) the center island (2) east and (3) west sides of the front campus surrounding the school sign and electronic board. The BUC Backer Foundation also engaged Sickles for yearly upkeep of the landscaped which includes weeding, and seasonal plantings.
Soon the community will enjoy autumn, school themed burgundy and white mums which will give way to similarly colored cabbage plantings in the winter. Bulbs planted in the fall will usher in spring with sunny yellow daffodils. Colorful annuals and proliferating knockout roses will beautify the beds all summer long. Evergreens will anchor these locations from year to year.
There are many challenges to this noble and ambitious project; however, Mrs. Daly explained that the key to its success is constant watering. Somehow a water supply had to be accessible to the planted beds which are acres apart and nowhere near a water spigot. The Foundation was able to identify a 200 gallon special watering tank with flexible water pressure capabilities that could be hauled behind a truck on skids. Most importantly, RBR's maintenance staff agreed to take on the watering responsibility to keep the precious plantings nourished and thriving.
Dulce Feito-Daly explains, "The RBR maintenance staff stepped right up to do this as they also share the extreme pride we all feel for this school and want to showcase on this campus." She adds, "Also the Board of Education was amazingly supportive and even agreed to purchase the watering apparatus. They were fantastic to work with over several meetings when we detailed our plans and were able to answer their questions and satisfy their concerns."
Phase III is planned for next year which would affect the school building entrance. Planned are sitting benches and other landscaping and plantings with the vision of transforming a vast empty paved area into more of an inviting courtyard space.
The BBF presidents drew their inspiration for the school-spirit project from several students who last year created an on-line t-shirt sales program to purchase signs for the athletic stands which they labeled "The BUC Deck." This year, the foundation imitated that gesture by presenting every incoming freshman with an RBR t-shirt.
Mrs. MacPherson comments, "Clearly these students were excited about their school and wanted to create some energy around it. Patti and I thought we could be the vehicle to continue that on a bigger scale."
Mrs. Daly adds, "We wanted the exterior to reflect how wonderful this award-winning school is on the inside. We want the campus to be a reflection of what RBR is about."
Anyone interested in supporting the BUC Backer Foundation Campus Beautification Project can contact Dulce Feito-Daly at dulce.feitodaly@gmail.com or Carmelina MacPherson at carmelinamac@gmail.com or visit their website at www.bucbackerfoundation.com.