Return to Headlines
RBR to Present a Spring Dance Extravaganza Friday, May 31
RBR to Present a Spring Dance Extravaganza Friday, May 31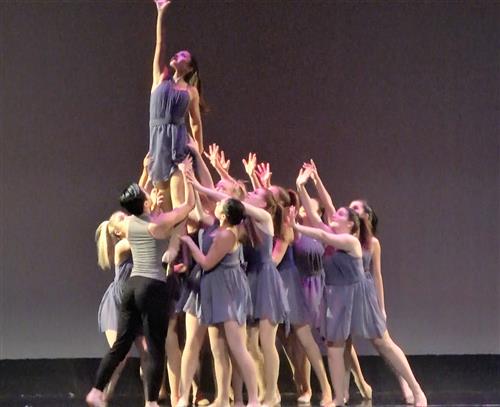 Red Bank Regional (RBR) High School will present its Spring Dance Extravaganza on Friday, May 31, 2019, at 7 pm. The RBR Visual & Performing Arts Academy (VPA) dance majors will present a variety of contemporary, ballet, hip hop, jazz and modern dance numbers in the Joseph A. Russo III Theatre. Tickets are $10 for adults and children over 12; $5 for senior citizens/non-RBR students and children. RBR students and faculty attend free. RBR is located at 101 Ridge Road in Little Silver, NJ. Tickets may be purchased online https://rbrhsnj.booktix.com/ or at the door.
The show features choreography created by the students, their teacher, Cara Scacco, as well as two guest artists. RBR and Delaware Dance Team Alum, Gianna Pianoforte, choreographed a group hip hop number for the junior and senior classes.
The dancers state, "The sharp, energetic choreography was a highlight of the spring season. Ms. Pianoforte helped us to complete some very challenging hip hop tricks as a group."
The underclassmen worked with NFL Cheerleader and Montclair State University Dance Alum Brianna Santigate, who choreographed an instrumental modern work for the dancers. Ms. Santigate is a teaching artist who choreographs and teaches in various studios as well as high schools throughout the New York and New Jersey area.
RBR senior Madison Ranallo reflects on her experience as a four-year dance major. "The RBR Dance Department has allowed me to grow as both a dancer and person by teaching me patience, teamwork and responsibility."
Senior Julia Rousseau adds, "Being a dance major has given me the opportunity to explore my creativity in dance by developing my choreography skills with my closest friends. It has taught me to juggle school work with what I love and has inspired me to continue a dance career in college by being a part of a dance company."