Return to Headlines
RBR Students soon to pack their bags for Worldwide Destinations through CIEE's Global Navigator Programs
RBR Students soon to pack their bags for Worldwide Destinations
through CIEE's Global Navigator Programs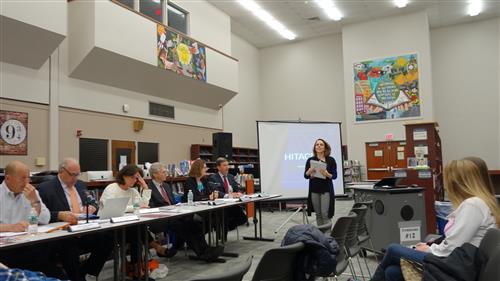 At its May 1 meeting, the Council for International Educational Exchange (CIEE) Global Navigator Program International Studies Advisor, Caryn Berman addressed the Red Bank Regional (RBR) Board of Education. She informed them that 14 RBR students had been granted over $42,000 in scholarship money to attend CIEE's programs for summer 2019. Four of those students were present at the meeting to express their gratitude and state what they would be doing over their summer vacation.
Nicolas Trimarche of Millstone will be going to Japan for four weeks to study the language and culture of that island nation. Amy Serrano, Red Bank, will study language immersion and culture in Buenos Aires, Argentina. Eleanor Phillips, Red Bank, will be mentoring youth and raising social awareness in Mohammedia, Morocco. Remi Ryan, Red Bank, will be working on environmental projects to help build a sustainable planet in Monteverdi, Costa Rica.
Caryn Berman told the Board, "You should be proud of your students since they were among the 1300 that were chosen from a field of 3000 student applicants from across the country. They are competing with the best of the best."
In addition to the four students who described their programs, other RBR students will be doing immersion and cultural programs in Mexico and Germany. Some will attend cultural programs that will explore the arts in: St. Petersburg, Russia; Rome, Italy; Madrid, Spain. Another student will study at a creative arts studio in Prague, Czech Republic. Two students will travel to London and study its famed theatre industry. One student will travel to Dublin, Ireland, for a program in global entrepreneurship.
This marks the second year in which RBR has participated with CIEE; last year 14 students traveled abroad for three and four week programs. The language immersion students earned four college credits for their programs, while the leadership initiative program students garnered over 50 hours of community service.
Caryn Berman stated, "These students will be with other students from all over the US who share the same passions they do. Their teachers notice a big difference (when they return) as their confidence is just incredible. The language immersion programs consist of 60 hours of classroom activity which is reinforced with out-of-classroom excursions. We have found that one month of participation in one of these programs is equivalent to one year of language learning in a US classroom. The method by which our students absorb language skills is really incredible."
For more information on the CIEE Global Navigator Programs visit their website at https://www.ciee.org/high-school-summer-abroad/.