Return to Headlines
Little Silver Police Detail How they Keep RBR Students Safe in Challenging Times
Little Silver Police Detail How they Keep RBR Students Safe in Challenging Times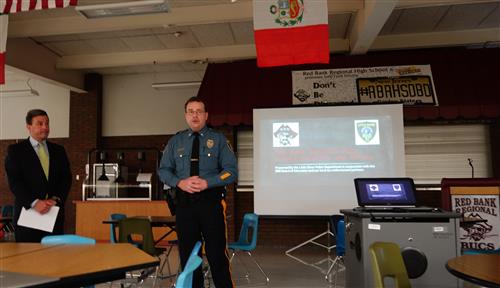 Just as Dr. Louis Moore, RBR Superintendent began addressing a room of parents at a pre-arranged meeting on school security, breaking news flashed of yet another school shooting. This one was at a STEM High School near Denver. A brave young man died trying to protect his classmates from the shooter.
"We live in challenging times, Dr. Moore began, "This is not only clear and present, it is heartbreaking. We do these things (as detailed in the security meeting) as a sacred obligation. It is our best effort to prevent a tragedy from happening."
Moore detailed how the school has been upgraded to promote security. These include the over 100 cameras throughout the school that can be viewed by many angles. Additionally, there are the ubiquitous drills: fire, active shooter, shelter in place, and lock down. The school also employs a double door entry system which strictly monitors access to the building and maintains a strict visitor management policy. Security staff and hall monitors frequently walk the building and most have law-enforcement backgrounds. Most importantly, the school district has a very close working relationship with the Little Silver Police Department. In fact, for over a decade it has employed a Little Silver officer as the school resource officer (SRO) who is located on the school grounds. Every day you can see SRO Andrew Smith's patrol car prominently parked at the front school entrance, one of many deliberate deterrents in the schools security plan. The SRO works hand and glove with his department to cover the school in case of any emergency.
Andrew Smith delved into more detail about RBR security plans and techniques. Being embedded at the school gives him an immediate response advantage; in fact, the police department utilizes a special military mapping system which can locate him at any time wherever he is in the building. Special training sessions are regularly conducted for emergency events with local police departments as well the Little Silver police department in our building as well as others. This familiarizes all the local police with the configuration of area school buildings.
RBR also uses a WAVE emergency system (similar to a fire alarm) which can activate an immediate lock down. Certain special trained administrators also carry lanyards with activation buttons for the WAVE system and therefore can remotely activate a lockdown. Additionally, all the RBR building sections are specially color coded to alert police to every part of the building. Little Silver Police maintain an officer on the Monmouth County Rapid Response Team and the police department maintains all the state-of-the-art equipment to handle any major emergency. RBR's windows are all coated with special bullet resistance film.
RBR's prevention strategy includes educational programs that are presented to students and staff who are trained to follow their instinct to report suspicious activities.
Officer Smith added, "One major advantage we have is THE SOURCE. Anyone who has ongoing issues or are in need of counseling, work closely with The SOURCE, (RBR's on-site mental-health counseling center.)"
Little Silver Police Chief Daniel Shaffery addressed the possible emergencies they are prepared to confront, including: bomb threats, trespassers, active shooter(s), severe weather and environmental incidents, such as a gas leak.
The behaviors that can be construed as threats include: threats made in notes, drawings or on the internet. (The latter includes online search activity), expressing an interest in possession of weapons, and solicitation of such.
Chief Shaffery stated that the department has a "zero tolerance policy" for threats against its schools and has a low threshold before intervention is employed. This includes reports about student behavior involving threats of violence or concerns about individual safety, which all must be immediately reported.
He stressed that the police department welcomes participation from the outside and will keep all tips anonymous.
If an incident reaches the threshold of police intervention, the SRO will reach out to his department and the police will conduct interviews and searches including computer and browser histories and social media searches. If weapons are found, even if legally owned, they will be removed for safekeeping while the investigation is on-going. The school district and police department work together on public dissemination of information to give out consistent and accurate information as soon as it is possible. Chief Shaffery cautioned the public not to relay on social media platforms for such information, which he claims are usually 90% false.
He explained that RBR had two police safety investigations this year, which both resulted in criminal charges, which eliminated any immediate threat before the community knew of them. Both students were removed from the school district and are facing the legal consequences.
Dr. Moore had mentioned that the tips from those two incidents came directly from RBR students.
He stated, "There is something very special about the climate here at RBR. We make kids feel welcome here. For the most part kids realize this is their school community and realize they are partners. We had two incidents and we felt we dealt with them the best way we could. That the source of that information was from students is comforting."
He added, "This is a two-way conversation between our police and our school community. We try to be good listeners. This is an ongoing process. Every day we learn from it."