Return to Headlines
Over $75,000 in Scholarship Money Awarded to RBR Graduating Seniors at SOURCE Awards Dinner
Over $75,000 in Scholarship Money Awarded to RBR Graduating Seniors at SOURCE Awards Dinner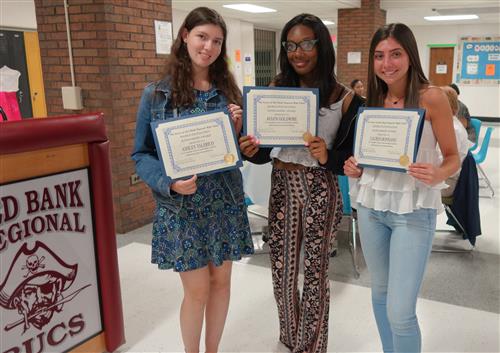 On June 5, the Red Bank Regional SOURCE held its 19th annual awards reception and distributed over $75,000 in scholarship money to help students realize their dream of college. The SOURCE is RBR's School Based Youth Services Program that provides RBR's students with mental health counseling as well as other services for the purpose of removing all obstacles that impede academic success. The Source is funded by the Department of Children and Families, Division of Community Partnerships & Prevention, the RBR Board of Education and the fundraising efforts of the SOURCE Foundation 501 (C) 3.
Five students, Sara Bueno, Rafael Martinez Ponce, Allison Francisco Medina, Lucas Nascimento, and Salvador Pena Orellana (all of Red Bank) received the Andrew Kroon Memorial Scholarship to attend Brookdale Community College next year. Collectively the students intend to utilize this gift to embark on careers in nursing, IT, engineering and early childhood education.
SOURCE Director Suzanne Keller introduced the scholarship generously provided by the Kroon Family in honor of their beloved son for over a decade.
She stated, "To date, 62 students have attended Brookdale Community College through the generous donations of the Andrew Kroon Memorial Scholarship fund. We are extremely proud to announce that 11 students have successfully gone on to 4 year universities."
Also honored at the event were RBR Kroon Scholarship Alumnus Diana Escalona and Monica Urena, who both achieved their bachelor degrees in the past few months. Diana achieved a degree in business and corporate communications and Monica in supply chain management.
Other scholarship recipients included:
The Latino American Association Scholarship to Karla Ortega Cuautle and Allison Francisco Medina (both of Red Bank)
The Joyce Williams Memorial Scholarship to Amira Ibrahim, Red Bank
The Bleemer-Cerbone Scholarship to Manuel Rosario, Red Bank
Albert Martin Memorial Scholarship to Stephanie Flores-Avina, Bradley Beach, Evin Lawlor, Red Bank and Manuel Rosario, Red Bank.
The Source Foundation Scholarship to Lauren Bonnano, Little Silver, Avia'n Goldwire, Long Branch City, Ashley Talerico, Red Bank.
Ms. Keller also presented its Community Partnership Award to Lunch Break personnel including Director Gwendolyn Love, Sharda Jetwani and Melia Owens. Lunch Break houses the SOURCE's community tutoring program.
She stated, "Over 100 students and six years later, Lunch Break has been there to ensure our students have a place to go to do their homework and receive support from our teachers," She added, "Space and location is not the only support Lunch Break provides. They also provide prom dresses and suits free of charge and food and clothing for our students in need. Lunch Break is always available to lend a hand."
RBR graduate Lance Vanglahn was also recognized with the SOURCE's Community Service Award as he has continually returned to his alma mater volunteering to assist the SOURCE with its Summer Slam program and as a mentor to its LGBTQ students. Lance is currently at Brookdale and intends to become a social worker.
RBR Superintendent Dr. Louis Moore thanked the hardworking team at the SOURCE and its Foundation. He stated, "The SOURCE is about removing barriers for the young people we serve, but I believe it does so in a larger sense by removing barriers that separate us like misunderstanding and ignorance."