Return to Headlines
RBR College Bound Students Benefit from IB Diploma
RBR College Bound Students Benefit from IB Diploma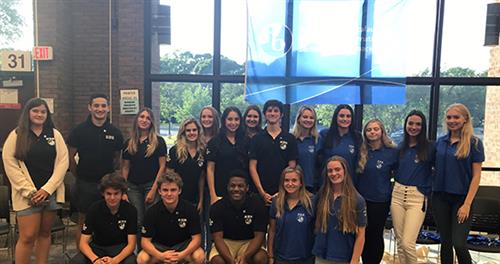 In a very competitive environment to gain entrance to the country's top colleges as well as preparation for an ever challenging global environment, students often look for ways to distinguish themselves among their peers. Seven of Red Bank Regional's (RB) recent graduates have accomplished that distinction by earning the prestigious International Baccalaureate Diploma (IB). They include: Summer Smith, Sophia Pouso, Ashley Lloyd, Claire Lynch, Grace Noglows, Quinn Moore, and Brady Lynch.
RBR introduced the worldwide renowned IB program nine years ago and remains one of the twelve high schools among 511 in New Jersey that offers the program. Only 1000 high schools of 37,000 int he United States also offers the IB Diploma. It is recognized by over 1600 universities and is taught in over 4,000 schools worldwide. The RBR program is supervised by RBR teachers Rose Powers and Lisa Boyle.
Colleges that recognize IB grant students college credit for their courses. It is distinguished by its rigor which includes an extensive essay writing component, class debate and discussion as well as a completion of continuous activities outside the classroom over 2 years (sports, extracurricular and community service.)
Summer Smith of Little Silver earned her IB diploma this year and is headed to the University of Wisconsin to study political science on the pre-law tract.
She states of her IB experience, "The program helped me significantly in writing and in discussion based on a college-lecture class. I have written multiple research papers which were interesting and informative. And I do believe it helped me gain acceptance in many schools. My college counselor told me that the IB diploma was one for the most challenging things I could do in high school."
The Noglows family of Little Silver is a great proponent of the program as three of their four RBR graduates earned IB diplomas. Their youngest, Grace Noglows will be attending The University of Colorado Boulder next year majoring in journalism.
Their mother Judy Noglows states, "My children believe that the IB diploma helped them gain admittance to their respective universities and felt completely prepared for college work. My daughter Hannah earned a full college semester of credit for her IB work. (Hannah majored in International Studies at the University of Michigan.
Next year RBR hopes to grant 12 additional IB diplomas to this year's rising seniors who recently received their IB pins as they enter their second and concluding year of the program. They are: Maxine Lloyd, Kyle Weisman, Cameron Nifoussi, Catherine Metzger, Lillian Thygeson, Chloe Rosen, Claire Petrone, Alexandre Decker, Eric Dykerhoff, Tor Haugenes, Tyquann Crawford.
Next year's IB Class President, Lily Thygeson of Little Silver, has conferred with past graduates and states, "They all say that the writing requirements and other demands of IB has really prepared them for college. I can tell that my writing has improved in the time that I have been in the IB program and feel really prepared already."
For more information on the International Baccalaureate Diploma visit their website at https://www.ibo.org.