Return to Headlines
Five RBR Graduates Reach Eagle Scout – Boy Scouts Highest Honor
Five RBR Graduates Reach Eagle Scout – Boy Scouts Highest Honor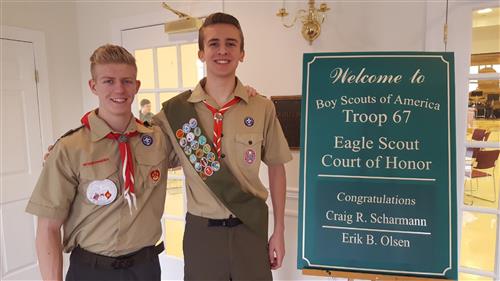 At its June 19 board meeting, Red Bank Regional High School (RBR) commended its students that reached the venerated level of Eagle Scout, Boy Scouts highest honor. They were (from Little Silver Troop 126) Gianni Perfetto, Marc Brewer, Brendan Loftus, (Red Bank Troop 67) Craig Scharmann and Erik Olsen. All five boys are from Little Silver.
Brendan's father, Joseph Loftus, Assistant Scoutmaster for Troop 126, spoke collectively for the scouts explaining that these three boys had been together as Cub Scouts from the age of seven and "followed the scouting trail through to their 18th birthdays, a difficult accomplishment given the academic rigors of high school, participating on sports teams etc. Due to these other commitments, only 4% of Boy Scouts reach Eagle."
Their Eagle Scout projects included: (Brendan) the presentation of a Nutrition & Weight training seminar; (Marc) the repair to a historic barn in Freehold; (Gianni) the rebuilding of garden boxes and replacing the flag pole at St; John's Church in Little Silver.
He added, "Their adventures have included annual week long trips to Forestburg Scout Reservation in July, end of school year trips that have included Manassas, Antietam & Gettysburg battlefields, Boston to hike the Freedom Trail, as well as multiple trips to Harriman State Park in NY, Wharton State Forest (the Batona Trail) and most of NJ State parks. Recently, they have added High Adventure trips – weeklong back-packing excursions – to the Catskills, a 55-mile in the Adirondack High Peaks, and last year, a 60 km trek across the tundra and glaciers of Iceland."
Best friends Craig Scharmann and Erik Olsen from Little Silver, also spent practically every day in scouting together since the age of 11. Craig's father Chris, an Assisstant Scout Master from Troop 67 and an Eagle Scout from that same troop, introduced both his sons to scouting. (His son Eric, an RBR graduate, was the second in his family to make Eagle Scout marking the first intergenerational Eagle Scout in the troop's history.) Craig now joins them as the third Eagle Scout in their family.
Craig Scharmann and Erik Olsen enjoyed scouting adventures together practically every month including special trips like the one to NYC to tour the Intrepid; camping at Appalachian Trail and Hawk Mountain among many other scouting trips and outings. They most recently learned about leadership in the week long National Youth leadership training in Quail Hill.
For Craig's Eagle Scout project he restored the recreational sports shed at Sickles' park in Little Silver. Erik took on a project in the same park marking the distances on the walking trails.
Craig believes that the leadership opportunities he received in scouting helped him earn the prestigious Congressional Gold Medal, Congresses highest accolade bestowed on American youth. Only 400 students a year receive this reward.
The boys are now college bound with Gianni attending Brookdale, Marc at Rutgers, Brendan at Dartmouth, Craig will go to Villanova and Eric the University of Wyoming.